In Plato the theology of beauty has a fundamental role: the awe for beauty awakens in man the memory of his divine origin and gradually helps him to undertake once more the navigation towards God. The Primitive Church, proclaiming the incarnation of God, reveals that "beauty" has dressed itself in mortal flesh:
«True light came into the world...
and the Word became flesh and dwelt among us, and we saw its glory, the glory of an only begotten son from the Father, full of grace and truth» [1]
Psalm 45 is fulfilled:
«You are the most beautiful from among the sons of man, Grace is poured on your lips...» [2]
But the incarnation remains a scandal, because for for the pagan or for the rational mind, beauty cannot take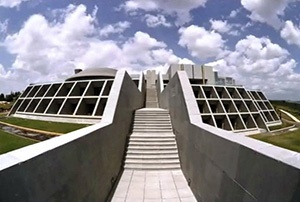 «sensible shape...
and among fleeting forms to feel the sighs of a mournful life...
here where years are short and unhappy» [3]
The incarnation of beauty enables man to receive a new nature.
Already the Old Testament announces the bond between conversion and the restoration of original beauty: the beauty of Eve is a type of the human situation before original sin. Adam finds a partner in the creation only when God creates Eve. Adam is surprised in front of her beauty:
«Here is truly flesh of my flesh, Bone of my bones.» [4]
When Moses leads the people to the foot of Mt. Sinai so that they may receive the Torah, Scripture and rabbinical tradition present this meeting as a new marriage between God and his people. Through a washbowl [5] of regeneration, the people filled with diseases, ugliness, and defects caused by sin and slavery, are reconstituted to the original beauty of Eve: the rabbis write that:
«The blind regained their sight, the lame could walk, the lepers were healed, the deaf could hear once more,...»
God, seeing the beauty of the new Eve could exclaim like Adam:
«Here you are flesh of my flesh.»
The same language of beauty is used in the Song of Songs to describe the love of God towards his people:
«How beautiful you are, my friend, how beautiful you are! Your eyes are like doves» [6]
To John the Baptist who asks testimony from him, Jesus answered with the same words of Isaiah:
«Go and tell John what you have heard and seen: the blind see, the lame walk, the lepers are healed...» [7]
In the primitive Church Iconography is the testimony of the Incarnation: the face of Christ can be represented because God clothed himself with our flesh.