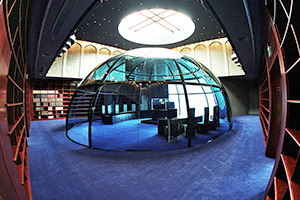 The Library

In order to facilitate study and to deepen the understanding of Sacred Scripture, with special attention to the Sermon of the Mount, there is a very modern computerized library for biblical studies.
---
Sanctuary of the Word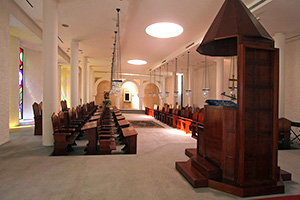 A characteristic element of this building is the Sanctuary of the Word, which will be useful to those who will go to this house to scrutinize the Scriptures, in a prayerful and contemplative atmosphere. In the area of this Sanctuary, there are 80 thrones. At the end of the wall there will be a Tabernacle, designed with two levels: one has the presence of the Blessed Sacrament, and the other has the presence of the Sacred Scripture (see Dei Verbum which invites to venerate the Scripture. [1]. Both presences, -Blessed Sacrament and Word- kept in the Tabernacle are like a door opened in the wall of death which surrounds the life of every man. In front of the Tabernacle there are three arches, to recall the Trinity. The modern stained-glass windows of the Sanctuary, brightly colored, remind us of the Creation and the Garden of Eden, where man walked and dialogued with God.
---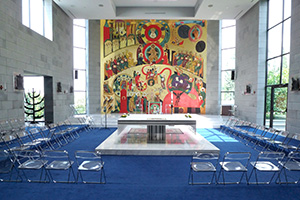 Church
The complex includes also a Church for Eucharistic celebrations and a Chapel of the Blessed Sacrament surmounted by a stylish chalice which refers to the passion of Christ [2]
---
References
[1] - Dei Verbum, N.21
[2] - "Abba Father, if it is possible take this cup away from me, but let it be done not according to my will but to your will". (Matthew 26,39).